Onboard digitalization is the next major step for the maritime industry and is intrinsic to reducing operational costs, increasing efficiency and meeting environmental regulations.  The BigOceanData platform is feature rich with the tools required to make monetary savings, keep vessels compliant and meet digitalisation objectives.
BigOceanData has digitalised the whole voyage cycle from planning, live voyage management and performance analysis.
Voyages start with optimised route planning and integrated approval process
Real-time route management to stay on plan and budget
Performance management and daily/noon reports to CII and decarbonisation targets
Live voyage data, ensures all stakeholders remain confident of meeting RTA and supply chain
Managers, agents and ports have full visibility for resource management
Post voyage performance analysis for CII, environmental and Op Ex review
BOD Onboard
Traditionally BigOceanData clients have been shore based users, from Fleet Operators, Regulators to Insurers.  With wider availability of marine data and comms, vessels are now using BigOceanData on the bridge to support vessel's need for digitalisation and to become part of the business network.  BigOceanData have developed a low bandwidth onboard BigOceanData application, we call this 'BOD Onboard'. Allowing vessels and shore-based users to share a common operational platform.
The 'BOD Onboard' application features a suite of vessel specific functions.
Cloud-based planning tool enabling vessels to share voyage plans with weather routers and with HQ for approval / optimisation.
Real-time voyage management with all stakeholders inc charter, operator and ports
Noon / Daily report function. An auditable uniform data capture, directly shared with fleet managers
Environmental CII and performance management collated and shared directly with fleet managers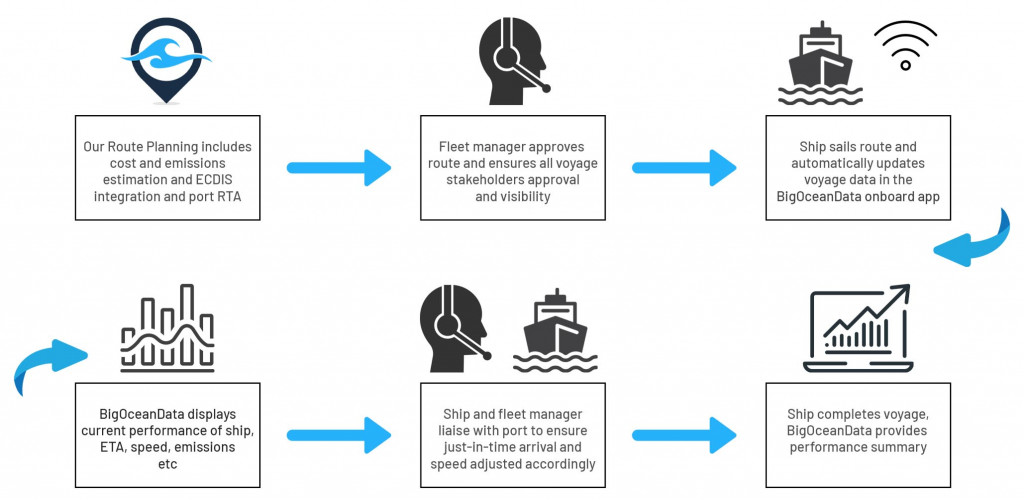 Contact us for a no obligation chat